Cultura, salud, cine y televisión: Recursos audiovisuales en las Ciencias de la Salud y Sociales
Synopsis
Este libro quiere crear una reflexión en torno al uso, creación y elaboración de materiales audiovisuales –documentales, películas, programas televisivos, anuncios y series de televisión– en la didáctica e investigación de las ciencias de la salud y ciencias sociales. Para ello se recogen diversas contribuciones realizadas en el marco del Seminario Cultura, Salud y Cine que proceden de diversos campos de saberes: Antropología Médica, Bioética, Historia de la Medicina, Estudios de Género y Física. Por una parte, las aportaciones tienen como objetivo explorar algunas categorías diagnósticas utilizadas en los discursos biomédicos y también en términos de identidades, cuerpos y estigmatizaciones (sin olvidar el papel de los profesionales de la salud, pacientes y cuidadores dentro de los recursos audiovisuales). Por otra parte, se profundizan los aspectos tecnocientíficos y los procesos de popularización de la ciencia, la medicina y la tecnología presentes en las obras cinematográficas, tanto clásicas como modernas, relacionadas con las ciencias de la salud.
Culture, health, film and television
This book reflects on the use and creation of audiovisual materials (documentaries, films, television programmes, adverts and television series) in teaching and research in the health and social sciences. To do so, it brings together papers delivered at the Culture, Health and Cinema Seminar by authors in various areas of knowledge such as medical anthropology, bioethics, history of medicine and gender studies. On one hand, the papers explore certain diagnostic categories used in biomedical discourses and in relation to identities, bodies and stigmatisations (without forgetting the role health professionals, patients and carers in audiovisual resources). On the other hand, they take an in-depth look at the technical and scientific aspects and the processes for popularising science, medicine and technology that are present in both classical and modern cinematographic works relating the health sciences.
Compra el libro en papel | Lee el libro en línea
* * *
Sumario
Yo soy yo y mis circunstancias audiovisuales, Serena Brigidi
Prólogo. Cámaras, informes y hospitales, Joan Úbeda Carulla
Dos miradas y un destino: cómo plasmar los resultados de una investigación cualitativa en lenguaje audiovisual, Maite Cruz, Juan Zarco
De lo soñado a lo posible: las nuevas voces de la intersexualidad, Nuria Gregori Flor
Cuerpos impropios: amputaciones voluntarias y reflejos mediáticos, Inmaculada Hurtado García
El doctor frankenstein, supongo: seres electrizados, invisibles, irradiados y ultraterrenos, Manuel Moreno
Cine y procesos de medicalización: documentales médico-coloniales de la posguerra española (1946-1949), Carlos Tabernero Holgado
La locura como tejido habitable, Martín Correa-Urquiza
Etnografía, realidad y ficción en los médicos y enfermeras en las series de televisión, Josep M. Comelles, Serena Brigidi
Cine y medicina: imágenes sobre la salud y la enfermedad, Carlos Tabernero Holgado, Enrique Perdiguero-Gil
Recursos documentales en cine y salud, Serena Brigidi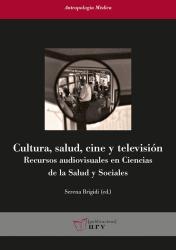 Published
December 20, 2016
Details about the available publication format: Cultura, salud, cine y televisión: Recursos audiovisuales en las Ciencias de la Salud y Sociales
Cultura, salud, cine y televisión: Recursos audiovisuales en las Ciencias de la Salud y Sociales
ISBN-13 (15)
978-84-8424-423-3
Date of first publication (11)
2016
Physical Dimensions
21cmx14,8cm
Details about the available publication format: PDF
ISBN-13 (15)
978-84-8424-423-3
Date of first publication (11)
2016
doi
10.17345/9788484244233