Southern Catalonia, Knowledge Region
Synopsis
The document Southern Catalonia, Knowledge Region argues that Catalonia needs to develop its own internal regional policy, which would provide a framework for a decision-making system of regional planning and development. This system would also cover the southern region. The document describes the features that this system should have, taking as its source the European cohesion policy, which focuses on regional development based on smart specialization (RIS3) and allows to identify regions with economic and social knowledge-based activity.
European regional policy, therefore, identifies Southern Catalonia as a Knowledge Region, and provides an operational definition of the region. There is, first, a bottom-up need that arises from the concerns and demands repeatedly expressed by the various levels of society whenever a decision with strategic regional scope has had to be taken (on infrastructure, health, tourism, industrial development, etc.). And, as the document shows, there is also a top-down need: European policies need to be implemented more effectively to allow for cohesive growth. The document discusses the desirability of defining the attributes of the NUTS2 region, and analyses the advantages of doing so (and the disadvantages of not doing so), the main strengths and weaknesses of the region and the difficulties that need to be overcome.
With this document, Universitat Rovira i Virgili's Chair for the University and Knowledge Region rises to the challenge of facilitating and contributing to the organization of a system of governance for Southern Catalonia as a region of knowledge. The document also describes the action plan that is being put into practice by the URV Chair for the University and Knowledge Region to help define the Southern Catalonia region.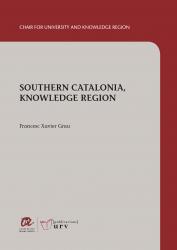 Copyright (c) 2017 Publicacions URV
Details about this monograph
ISBN-13 (15)
978-84-8474-578-0
Date of first publication (11)
2017