12th European Congress of Integrative Medicine: 1st International Symposium on Integrative Health and Education
Synopsis
In this book of abstracts, you will find summaries for more than 80 papers from relevant Integrative Medicine world professionals, 80 free communications and 100 accepted posters. I will not highlight any of them, as a collective we are all essential to improve medicine through Integrative Medicine.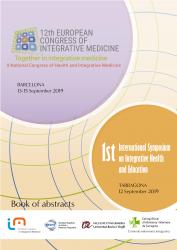 Published
September 9, 2019
Copyright (c) 2019 Publicacions URV
This work is licensed under a Creative Commons Attribution-NonCommercial-NoDerivatives 4.0 International License.
Details about this monograph
ISBN-13 (15)
978-84-8424-807-1
Date of first publication (11)
2019